Mindful Posture Coaching For Individuals, Groups, and Companies with Lindsay Newitter, AmSAT-Certified Alexander Technique Instructor
- Get out of Pain from Sitting, Standing, and Texting
- Increase Productivity and Reduce Fatigue
- Look and Feel Better, Younger, and More Confident
Learn How Lindsay's clients have benefitted…
Lindsay Interviewed on Good Morning America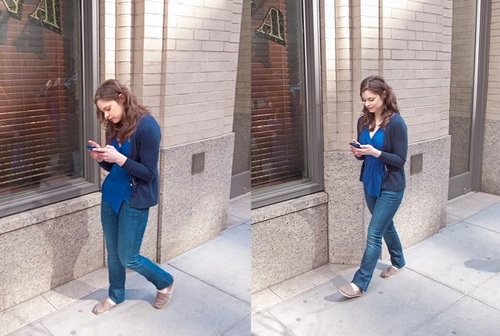 So you don't go into your next meeting with smartphone posture
Instead of letting your bag wear you
Studies show that more upright posture improved posture reduces stress and increases assertiveness
A solution to back pain...
"My initial impetus for trying the Alexander Technique, nine years ago at age 41, was to address discomfort in my lower back caused by a herniated disk. I had tried several other approaches that didn't help and when I turned to a spine doctor, she recommended the technique to me . . ."
Lindsay's Story
"As a teenager, I had wore a back brace for five years to halt the progression of scoliosis and I felt very out of touch with my body. I felt tense and stiff, restless, ill at ease, and anxious. I discovered The Alexander Technique as a young adult and it changed my life dramatically.
Upcoming Events & Offerings
Posture and Communication workshop for women - Sunday, Oct 6. Click here for more information.
Upcoming Group Classes: Lindsay offers ongoing small all-level group classes weekday evenings.